Times Square minus masses
By MINLU ZHANG in New York | China Daily Global | Updated: 2020-12-31 11:16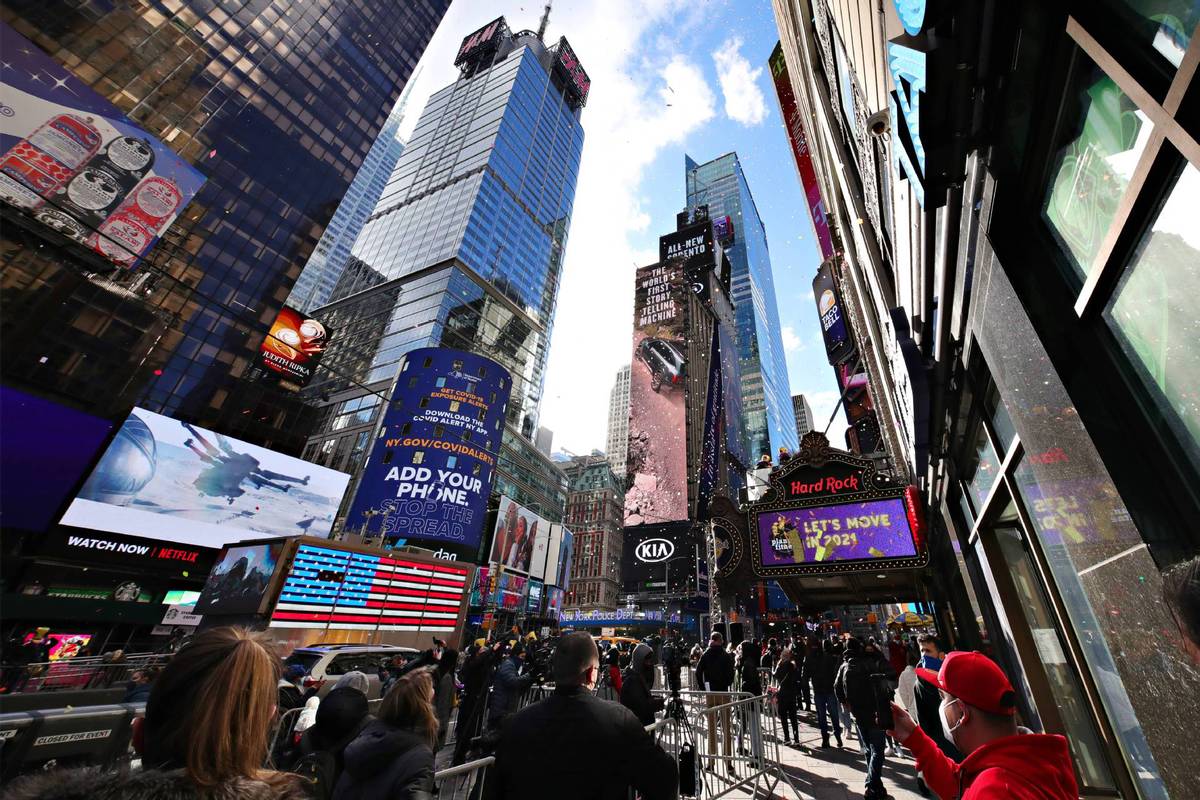 For the first time in more than a century, there won't be a massive crowd in Times Square on New Year's Eve to welcome the New Year.
Instead of hundreds of thousands of people standing at the "Crossroads of the World'' as a ball drops from atop the 25-story One Times Square skyscraper to signal the start of a new year on Thursday night, there will be a virtual event on a webcast because of the coronavirus pandemic. Thjne show will feature numerous performers in musical numbers throughout the evening.
New York City Mayor Bill de Blasio will push the button to start the descent of the New Year's Eve ball and lead the final 60-second countdown to 2021.
This year's event will recognize the "Heroes of 2020". They will be represented on site by New York families of first responders, front-line and essential workers.
"This year, it feels most appropriate to shine a spotlight on the individuals who are tirelessly leading our nation through hard times with unshakable strength, determination and poise," Tim Tompkins, president of the neighborhood services provider Times Square Alliance, said in a statement.
In 1904, the owners of One Times Square began to conduct rooftop celebrations to greet the New Year. The first ball lowering occurred in 1907.
Times Square isn't the only spot that will be largely empty on New Year's Eve — so are many stores and hotels in the area that have been put out of business because of the pandemic. Street vendors no longer offer food in the area, and also missing are the various costumed characters seeking tips for a photo with them.
Nearly 107,000 pedestrians entered the heart of Times Square on West 43rd Street in Manhattan each day in November, compared with 450,000 on the busiest days before the pandemic, according to the Times Square Alliance.
"Look at this empty Times Square," said Peter, the manager of Lan Sheng, which was a Michelin-starred Szechuan restaurant in Times Square. "It is a disaster for us. No tourists and no office workers; 90 percent of our business has been gone.
"Times Square is a business district; there are not that many residents living around. Therefore, we don't have many takeout orders. We've been operating at a loss every single day," he added.
The pandemic has devastated tourism in New York City. There was a record number of tourists in 2019 — more than 66.9 million visitors — and that number was forecast to go higher this year, according to NYC & Company, the city's tourism agency.
Now the number of tourists in the city is likely to reach just one-third of last year's total, and tourism isn't likely to return to 2019 levels until 2024, officials said.
"It is the worst year for us. Last New Year, our place was crowded from morning till night, full of people waiting to be seated. But this year, just look around, how empty it is," said Weimin Hong, chef of The Best Sichuan restaurant.
Occupancy at Times Square's hotels reached 26 percent in October, a 68 percent decline from 2019. Between March and the end of October, at least 26 of 46 hotels in the Times Square area closed, at least temporarily; 39 of 151 retailers closed, as did 84 of 162 restaurants, the alliance said. Some are gone for good, like the 478-room Hilton Times Square, which shut down in August and cut 200 jobs.
"We were providing lunches for office workers," said Yong Zhao, the co-founder and CEO of Junzi Kitchen, who just started his business in 2019. "Without office workers from Times Square, we had to adjust our business mode. Currently, we are delivering food to hospitals and surrounding residents."