Dou charts PGA Tour return after challenging year
Share - WeChat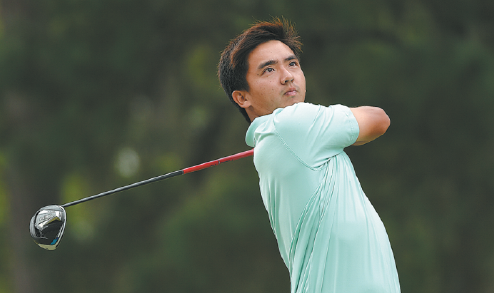 Top of Marty Dou Zecheng's New Year's resolution list is a return to the PGA Tour.
The Henan province native spent one year on the world's premier golf circuit in 2018 following a stellar campaign on the Korn Ferry Tour the previous season.
This year the pandemic temporarily shut down the Korn Ferry circuit, and after a three-month hiatus Dou struggled to get back in the swing. He missed five cuts in seven starts upon the resumption of play before regaining his form in time to conclude 2020 at No 37 on the Korn Ferry Tour's regular-season points list.
"I feel that this year has been difficult," said Dou, a two-time Korn Ferry Tour winner. "The pandemic affected everybody's lives. Our events were affected, and during the break it was hard to practice.
"When I returned to competition, I couldn't get my touch back. Looking back, I wish I had been able to find a way to quickly get back to my normal training regime."
Dou, who turns 24 in January, notched his first top-10 of the season at the Korn Ferry Tour Championship in late August. It was during the final round that he produced a brilliant burst of form with seven birdies and an eagle over a nine-hole stretch which helped him finish in a tie for ninth.
With his confidence restored, Dou went on to claim a tied-seventh and equal-fifth finish in two of his next three starts, propelling him into the top 40 on the points list. With the Korn Ferry Tour merging its 2020 and 2021 seasons, the top 25 players at the end of the regular season next August will earn PGA Tour cards, while another 25 cards will be up for grabs at the Korn Ferry Tour Finals, which are comprised of three tournaments.
"The highlight for me was when I scored 9-under during a nine-hole span during the Korn Ferry Tour Championship," Dou recalled. "I think that was the best-ever continuous run of holes that I've played in my career. I got into form and, although I ended the day on 7-under, I think I did great and exceeded myself.
"It helped push my position from the top 30 into the top 10 of the leaderboard in what was an important event," Dou continued. "It has helped build a good foundation for me to play in the coming season and fight for my PGA Tour membership again. I found my rhythm and I was satisfied I finished with a better result."
Under the tutelage of swing coach Cameron McCormick, who also works with 11-time PGA Tour winner Jordan Spieth, Dou reckons he has become a better all-round golfer. He ranks inside the top 50 in the Korn Ferry Tour's Driving Accuracy (46th) and Putting Average (38th) ratings, and his vastly improved iron play saw him ranked 10th in the Greens in Regulation category.
He ranked second in Birdie Average with 4.65 birdies per round during the 2020 campaign, and averaged 302 yards off the tee to rate 87th among his peers.
"Compared to 2019, I think I've improved on my skills. I feel better with my swing tempo and accuracy with the long putts. I feel I have reached a higher level and can control the golf ball better now," said Dou, who won the 2016 PGA Tour Series-China order of merit.
"I saw Cameron after the Korn Ferry Tour Championship, and we sat down to plan my training routine for the winter break. I feel I can continue to improve and make more progress."
China Daily